David Pawson occupies a key position among British Christian writers. His best known work, Unlocking the Bible, continues to be a worldwide bestseller in print, audio and video formats. Unlocking the Bible and other works such as The Normal Christian Birth have been called Pawson's legacy to the church. Pawson is known for accepting biblical text as the authoritative word of God while explaining its meaning and context in a practical and understandable language. Because he follows the teaching of Scripture where it clashes with church tradition, his books are often controversial.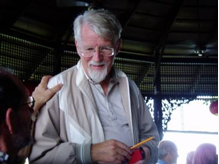 Today David speaks around the world and is received on God TV by millions of viewers in almost every country.
Born in 1930, David, determined to become a farmer, began his career with a B.Sc. in agriculture at Durham University in England. He was surprised when God intervened and led him to become a Christian minister. Studying for an advanced degree in theology at Cambridge University, under the influence of liberal educators, Pawson lost his trust in the Bible and very nearly his faith in God.
After a short spell in ministry for the Methodist church, he regained his trust in the infallibility and inerrancy of the Bible while a chaplain in the Royal Air Force of Great Britain. During this period he decided to preach the Bible systematically from start to finish. The results among the servicemen surprised both him and them, and confirmed to him Scripture's inspiration. Since then, his preaching has either been Bible study or topical studies based on a detailed, contextual examination of what the Bible says.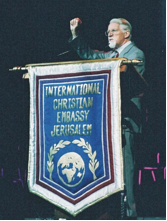 As pastor of Guildford Baptist Church (the Millmead Centre), Pawson established a reputation among both evangelicals and charismatics as an effective and balanced expositor of the Bible. Under Pawson's ministry, Millmead became the largest Baptist church in Britain. The church was unusual in that attendance was double the membership number; people regularly came from London to hear Pawson preach. Cliff Richard, who had been baptized by Pawson, was a regular attendee.
From here his teaching tapes – originally made for the church's sick and
elderly members – became popular worldwide. Behind the communist Iron Curtain these tapes struck a chord with the persecuted church. Missionaries and spiritual leaders in far-off corners of the world, without the opportunity to sit under a regular teaching ministry, became a significant audience for Pawson's preaching. In the last forty years literally millions of David's messages on cassette tape (CD, DVD and MP3 today) have been distributed around the world.
Pawson left Millmead in 1979 and engaged in an itinerant worldwide Bible teaching ministry, which has been his main work to the present. During this time he has written a number of books. He is a frequent speaker in the UK and throughout Europe; his speaking engagements have taken him to many parts of the world, including Australia, New Zealand, South Africa, The Netherlands, Israel, Southeast Asia and the United States.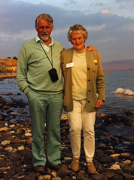 David Pawson lives near Basingstoke, Hampshire in southern England with his wife Enid. In his 70s he remains busy with speaking engagements in Europe, the US and at the Festival of Tabernacles in Israel, which he was a pioneer in encouraging Christians to attend."