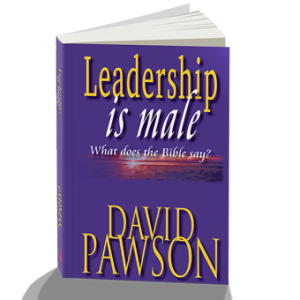 88 pages, 5″x8″, Perfect Bound, Paperback
ISBN: 978-0-9818961-3-7
Price: $11.99
Click here for a sample of Leadership is Male.
David Pawson provides a clear, detailed biblical exposition on what is an extremely topical issue. With leadership gender issues being debated in many churches, this book will continue to assist, inform, and teach what the Bible tells us about the male leadership. An essential resource, this is the long awaited revised edition of an important title, first published by Highland Books.
Leadership is Male is a great study for any Christian, male or female, who wishes to understand what the Scriptures say on what has become a major doctrinal matter.
Elisabeth Elliot writes in the Foreword: "Here is a simple, sane, serious treatment of the subject by a man who loves God, respects women, and takes the inspiration of Scripture and the integrity of the apostles for granted. He deals with all the "difficult" texts. He tells us that his subject is not a clerical issue, nor is it hierarchical, situational, historical, or experimental; it is biblical. Read this book. The exegesis points to the mystery. Mysteries are things revealed, not explained. Mysteries are always unsettling."
Buy Now